Hello everyone! I am in the midst of cross country travel. Over the river and through the woods. To grandmother's house we go! Traveling with three kids and a dog is filled with lots of Mommy Moments! I'm about ready to rest my weary head, so let me introduce you to this week's Mommy Moments host, Megan.

Hey guys! It's Megan , The Mrs, here and I'm so excited to help Faith out by hosting the link up for a little while. Her little bundle is almost here! How exciting is that? How many of us can remember back to that waiting period before our first little one arrived! Some of us waited, waited, waited, and others were caught by surprise, but each story is glorious and wonderful!
I have thoroughly enjoyed getting to know some of you as you have linked up your weekly stories. Last week we all loved this great post from
Proverbs and Pacifiers!
She's full term! How exciting! She asked about how we named our babies! My husband has always wanted a little girl named Madison, so there was no options there. I loved it, and thought it was beautiful. We had a hard time choosing her middle name, Lyric. RJ is very musical and plays several instruments. He also loves to sing - so Lyric seemed appropriate. Go share how you decided on your baby's name :)
Let's get this party started!
To link up, just...
and our guest host for the week is
2. Link up your post!
Post can include anything related to mommy-hood, children, homemaking, pregnancy etc. If you aren't a mom yet, feel free to link up your preparation for motherhood, your journey as you try to conceive, or even a post that would be encouraging to the other moms in the party!
3. Add the Mommy Moments button to your post or blog so everyone knows where you are linking up!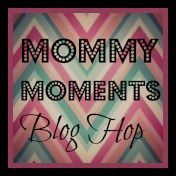 4. Explore some of the other posts in the link-up and say hello to some new blog friends!
5. Tweet or Share the link up on Facebook so we can all make even more friends!
Now, let's all go show some love and encouragement to Faith as she prepares to bring her sweet one into this world!
Let Megan or myself know if you want to be involved in co-hosting :)